Morro Negrito is a great location to experience a wide variety of dive points. At Morro Negrito there is flexibility on dive preference based on weather and experience. Most of our dives from Morro Negrito are from 30' to 80' in depth.
The boat
We use a 24' panga with a 60HP Yamaha. The boat is equipped with a handheld VHF radio, compass, first aid kit/trauma pack, compass, GPS and caseta. All of our radio equipment is modified to have a range of 100 miles. Safety is a priority.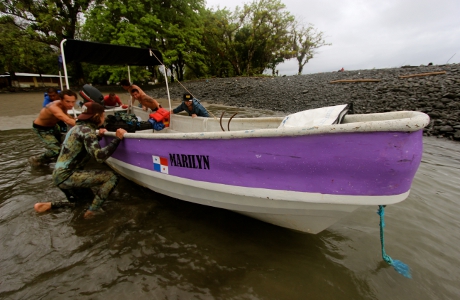 Group Size
We only accommodate up to 6 spearos per boat. The reason for the group size is due to the fact that we need to keep an eye on everyone in the water. Also, diving is much better when there aren't too many people crowding the water.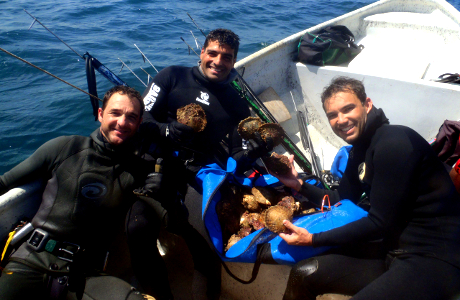 Accommodations
GENERAL CAMP LAYOUT
All of the camp rooms are tiled and have electricity. Around the camp you will find areas with hammocks and sun bathing chairs to lounge in. There are a few showers located around the camp to rinse off after a surf session.
ROOMS
The rooms are basic and usually hold two campers at a time. Upon request we will provide a room with a larger bed for couples. The floors are tiled and you will find a night stand within the room. We try and maintain a fan in every room, but most often the ocean breeze is sufficient.
BATHROOMS
There are three bathrooms that contain a shower, sink and toilet. The bathrooms are tiled and cleaned regularly.
DINNING/REC AREA
The dining area is a central location at the camp where all the campers get together to eat and socialize. The dining area contains a TV, a small library, a ping pong table, a source for filtered water and a variety of other random things.
FOOD
There are three meals a day that are provided as part of the package. The meals are healthy and often contain an assortment of fruit. We are able to accommodate special diets upon request. Sodas and Beers are a dollar each and can be purchased right outside the kitchen.